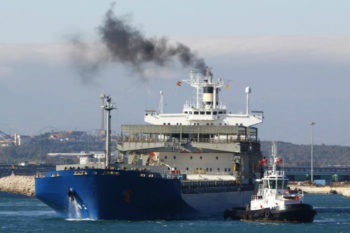 The shipping industry has been criticised for coming up with too many 'ifs' and 'buts' (excuses) when debating the reduction of emissions at the International Chamber of Shipping (ICS) conference in London.
John Maggs, president of the Clean Shipping Coalition, told delegates at the International Chamber of Shipping conference in London:
"That headline concern [about climate change] seems to be there, there seems to be acceptance of the problem and there is talk about the need for a truly ambitious strategy. But then there are too many ifs and buts. For example – it has to be ambitious but it isn't going to be a cap; we don't want any legally binding goal and want it to be aspirational; we don't want any market-based measures.
"When you read the ICS papers, there is this huge concern and then there is a narrowing of all the options, all the things we don't want and like. Do you end up with something that is going to see the shipping industry sharing the solution to climate change? I don't think so."
Maggs was on the panel of speakers discussing 'CO2 Reduction: Developing the IMO Road Map' at the conference held in the British Library during London International Shipping Week.
The conference had been opened with a keynote speech by IMO secretary general Kitack Lim, who acknowledged that "the whole world will be watching the IMO" as it works towards delivering a strategy by April 2018 for reducing shipping emissions.
He spoke of the need for "miraculous collaboration", which was echoed by moderator Gabrielle Walker, who said: "You know the world is watching. And one of the driving forces is the desire to avoid unilateral imposition by regions."
Maggs referred to the impacts already being felt from climate change and the likely impact further down the road: "This is a huge issue but completely different to what the IMO or the industry has had to deal with," he said. In order to protect places such as the Marshall Islands, decarbonisation is required within 25-30 years "which is not even the lifespan of a new ship", he said.
There is a danger of "ending up with another EEDI", he said: "EEDI is lauded as a fantastic outcome but let's not kid ourselves. EEDI has an extremely poor level of ambition and it isn't driving reduced emissions from ships. It may look good on paper but has it actually done anything? I don't think it has."
However, John Adams, ICS vice chairman and managing director of Teekay Shipping, countered his comments, saying: "There are important steps under way and things which are happening. John Maggs has been quite dismissive and it is not helpful to the discussion."
In a large industry of many operators and sectors, it takes a long time to bring dialogue to the point where you can polish it into a paper, he said – but it was clear that delivery must be achieved over the next eight months. "They are setting out something which I think is very progressive – we want to put out measures that are very real."
John Lyras, principal of Paralos Maritime Corporation, questioned why the industry was being 'pressed to be very specific in the percentages and when target'.
"Shipping is a responsible industry. I am a citizen of the world; I don't want the planet to disappear under the sea and I am also a business man, and I don't think these two things are incompatible – they have to be connected."
Magda Kopczynska, director of maritime transport at the European Commission's DG Move, said: "The next eight months are an unprecedented opportunity for all of us to actually get our act together and do something – because it isn't just a question of the credibility of the various institutions but also the credibility of the IMO as a strong and powerful institution that can steer the shipping world into a more sustainable future.
She added: "If there isn't a solution, regional solutions will start kicking in."