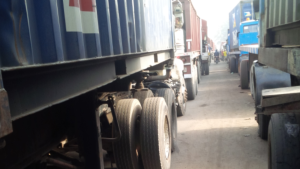 No fewer than six truck drivers have died of heart failure while being caught in the perennial Apapa gridlock. 
Chairman, Association of Maritime Truck Owners (AMATO), Chief Remi Ogungbemi disclosed this while speaking with SHIPS & PORTS DAILY last week. 
He said the incident that led to the killing of a truck driver by a policeman in Apapa recently was a sign of the dangers and frustration truck drivers go through daily in the course of performing their duties. 
He said, "Six truck drivers so far in this year have died. The environment has been claiming lives. For instance in a situation where some of them will not sleep for several days, may not eat well, not have their bath and they expose themselves to cold; so anything can happen to them. We are operating under abnormal situation." 
Stakeholders have blamed lack of effective traffic management system for the Apapa gridlock, which is believed will worsen in the days ahead as repair works commence on the Ijora-Wharf Road. 
Ogungbemi said apart from poor traffic control, the absence of truck park in Apapa is another major cause of the gridlock. 
"If we are able to get a befitting truck park, about 60-70 per cent of all the problem will be solved. It is an aberration for a whole port to be built without a park.
"Truck must come from somewhere and all these things are happening because people who are in the helms of affairs believe that there is no need having a truck park, that the truck owner should look for where to park their trucks," he said.  
Copyright Ships & Ports Ltd. Permission to use quotations from this article is granted subject to appropriate credit given to www.shipsandports.com.ng as the source.