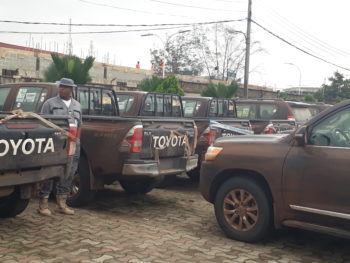 The Nigeria Customs Service (NCS) said it recovered 27 Toyota Hilux pick-up vans with duty value of N432 million and suspected to have been smuggled into the country, from sales stands.
The Deputy Comptroller-General of Customs in-charge of Enforcement, Investigation and Inspection, Aminu Dangaladima, disclosed this to newsmen in Abuja on Friday.
Dangaladima said that the vehicles were evacuated at two car sales stands on Kubwa Expressway in Abuja.
He said that NCS under the on-going reforms had continued to improve in all aspects, especially in the areas of suppression of smuggling.
" On Wednesday, Oct. 10, based on credible intelligence, operatives of NCS Compliance Team went to two open car stands along Kubwa Expressway in FCT and evacuated 27 Toyota Hilux pick-up vehicles suspected to be smuggled into the country. "
According to Dangaladima, the vehicles have estimated Duty Paid Value (DPV) of over N432 million.
He said: "We (Customs) urge the owners of these vehicles to come forward with valid Customs clearance documents otherwise they will be liable to seizure and subsequent forfeiture to the Federal Government in line with laws of the land.
"For the avoidance of doubt, what we are doing is in-line with the provisions of Section 147 of Customs and Excise Management Act (CEMA) Cap 45, Laws of the Federation of Nigeria,2004 (power to search premises).
"Section 154 CEMA, Cap 45 Laws of Federation of Nigeria (power to patrol freely).
"It must be understood that being in possession of smuggled items is an offence under Section 3 of Customs and Excise (special penal and other provision) Act Cap 47 Laws of Federation of Nigeria 2004," .
Dangaladima said the service was making progress on investigations in illegal arms importation and had made some arrests.
He disclosed that the Comptroller-General of Customs would be on the entourage of President Muhammadu Buhari to Turkey for sideline bilateral meeting with the Turkish Customs Authority.
"This is with the aim to permanently deal and put an end to such deadly importation coming from Turkey,'' he said.