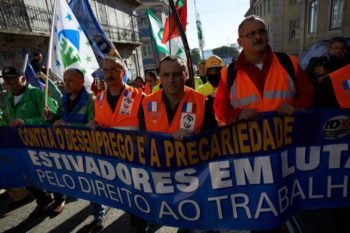 The Spanish stevedoring unions have decided to shelve their strike plans for the rest of this month as a sign of goodwill.
The move was prompted by a letter from Javier Vidal, president of the Association of Port Stevedoring Companies of Barcelona, who asked for the suspension of strikes after major port companies left the employers' association Anesco.
Previously, the unions said that a number of major companies did not support Anesco's approach to resolving the conflict, and that many vowed to guarantee all jobs to keep the social peace, and remain open for negotiations.
According to Vidal, a new document was signed by workers and port companies that left Anesco aimed at restructuring the association.
In addition, the workers are waiting to set a new meeting to formalize the agreements made with majority of companies.
In light of the latest developments, the unions cancelled the strikes planned for June 23, 26 and 27.
The unions had announced a new wave of 48-hour strikes scheduled for 26 and 29 of June and 3 and 6 of July starting at 0800 a.m.
According to the country's Ministry of Public Works, minimal level of services had been agreed with the unions so the regular lines and passenger traffic were not affected.
The dockworker strikes have had a major impact on the Spanish economy having in mind that the country relies on its ports for 80 percent of its total imports and 57 percent of its total exports.
The new strikes came on the back of a framework agreement proposal submitted by Anesco to the workers.
However, a joint statement from Coordinadora Estatal de Trabajadores del Mar, Unión General de Trabajadores (UGT), Confederacion Intersindical Galega and General Confederation of Labour of Spain, indicated that the proposal did not guarantee job security to all employees and brought nothing new to the table.
Spanish dockworker unions launched a nation-wide strike on June 5, impacting operations across the country's 39 cargo ports. Strikes were also held from June 14, 0800 hrs till June 16 0800 hrs, and at odd hours on June 19 and 21, resulting in only 50% of workable time.
Copyright Ships & Ports Ltd. Permission to use quotations from this article is granted subject to appropriate credit given to www.shipsandports.com.ng as the source.