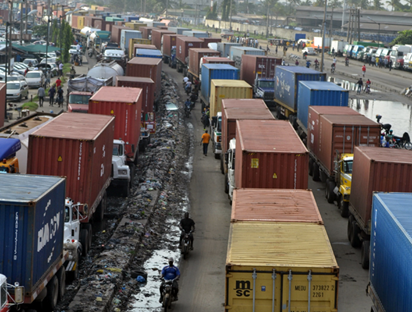 Truck and tanker drivers are unhappy that more than one week after it was set up, the Federal Government's multi-agency task force, Operation Restore Sanity has been unable to put an end to the Apapa gridlock as anticipated. 
Some of the truck drivers who spoke with SHIPS & PORTS DAILY weekend said they still spend several days on the road to enter or exit Apapa. 
One of the truck drivers who identified himself as Saheed Ahmed, said he spent four days to move from Costain to Marine Bridge, Apapa – a journey that is typically less than 15 minutes on a normal day.
Speaking with a tinge of frustration on Friday, he said, "I have been on this queue for the past four days from Costain to get to the tail end of the Marine Bridge. There are other truck drivers who are still stuck in traffic and they have spent close to two weeks. I also had to part with some money to be able to get here." 
Several other truck drivers who spoke with SHIPS & PORTS DAILY expressed frustration at the modus operandi of the Operation Restore Sanity officials, accusing them of seeing the task force as opportunity to make quick money. 
"Since yesterday that I came I have spent nothing less than N30,000. I was told to turn back from Costain. Then I have to spend another money to reach here (Ijora). All the security operatives asked me to part with some money else they will turn me back. The traffic is only moving for truck drivers who part with money but if you don't have money you will remain there like it is your parking space," another truck driver, Abubakar Sanni said. 
All through the length and breadth of the queue, which stretched from Apapa to Mile 2, Ikorodu road, and other parts of Lagos, the truck drivers complained of sleep and food deprivation as well as lack of sanitary facilities.
"Since last Friday around 12 noon, we were asked to leave the bridge that the security operatives wanted to clear the road. We all moved our trucks, parked and left for home. I have been in this gridlock since Monday. I cannot see any change. I have used 48 hours already and I am yet to get to wharf. Before I get to Wharf and load my cargo, it might take me till tomorrow," another truck driver, Ahmed Musibau, lamented. 
Some of the truck drivers believe that the Apapa gridlock will remain so long as government fails to fix the bad roads and provide truck parts for the over 5,000 trucks that ply Apapa daily. 
"They (Operation Restore Sanity officials) are working but since two weeks I have been on this go slow though the operation started on Friday. We were pursued to Lilypond. I was passed out of Lilypond this (Friday) morning. I am yet to see the solution to the gridlock. The major problem is the road. The road is not good at all. The road is the cause of the gridlock," lamented another trucker, Samson Owolabi. 
Ihechi Samuel's view was no different. "The Operation Restore Sanity is not working. There is still holdup, serious one at that. Since on Friday I have been on this road without movement. The only thing they did was to make lane for private cars to move but for trucks no way," he said.