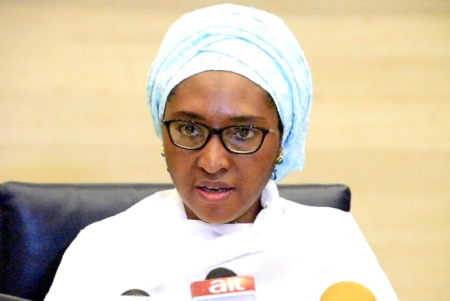 Maritime industry stakeholders have kicked against the 0.2 percent import levy imposed by the Federal Government on goods emanating from other countries under the African Union (AU).
The Minister of Finance, Zainab Ahmed, on Monday said the new levy is for "sustainable financing of Nigeria's membership subscription" in the AU.
According to her, the Federal Executive Council (FEC) approved the 0.2 percent levy as the new import levy on Cost, Insurance and Freight (CIF) that will be charged on imports coming into Nigeria from AU countries with some exceptions on goods originating outside the territory of member countries.  
But speaking on the development in a chat with SHIPS & PORTS, the immediate past National President, Association of Nigerian Licensed Customs Agents (ANLCA), Prince Olayiwola Shittu, said the implementation of the new levy would escalate the already high cost of doing business in the country.
Shittu noted that the reason given by the Finance Minister for introducing the levy does not justify the additional charges. 
He said, "This is uncalled for. We cannot be Father Christmas of all other countries in Africa. Since the establishment of ETLS (ECOWAS Trade Liberalisation Scheme) to benefit ECOWAS countries, what advantage has it given us other than us carrying the burden of others? Even in America where Trump is sitting on a very large economy, they are still against America bearing every cost of running the United Nations.
"We have a lot of things to sort out here in Nigeria and we are not thinking of that but how to collect tax to replace subscription of our membership of AU. Can you imagine! 
"Also, the volume of cargoes coming within the ECOWAS countries cannot be compared to what comes to Nigeria. So this in essence will add to the cost of doing business in the port, coupled with the revenue generation frenzy that is going on among all regulatory agencies while we are still waiting for Practitioners Operating Fee (POF) to be added to it.
"What they want to use the money for does not justify the additional increase. People are supposed to be forewarned of an intending policy. The government just sits down, takes a decision and passes it down to us. In enlightened society, government will leak the information about their intention and they will get reaction from the people. That will then show whether the policy is going to be popular or unpopular,"
Shittu lamented the extent at which public revenues are lost to waste and corruption, stating that such monies, if well expended, could be used to finance the budget.
"Successive governments have been crying that there is not money to fund the budget and carry out infrastructural development but nobody has addressed the waste in government and addressing that will enable us have money to do what we want to do and finance our budget," he said.
Also speaking, the National President, National Council of Managing Directors of Licensed Customs Agents, Lucky Amiwero, condemned the new levy. 
Amiwero wondered why importers should bear the cost of Nigeria's membership subscription in the AU.
"We have too many charges we contend with and if this one is coming from African countries, subscription cannot be from levies imposed on importers, it is a government levy if it is African union. You don't tax importers because of that.
"It is creating more problem of increasing the cost of doing business in the country. The import/export reform has not been done yet we are imposing more tax. Our ranking is almost 182. What we are we doing to that?
"In any of this, they are supposed to have passed a law to back up the levy because you don't introduce a levy without a law," he said.