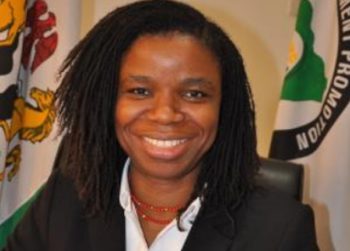 The Nigerian Investment Promotion Commission (NIPC) has said that states received a total investment commitment of $17.88 billion in the first quarter of 2018.
The Executive Secretary, NIPC, Yewande Sadiku, who made this known in an interview with journalists, said the investments were secured in 32 projects across the states of the federation, adding that the investments may not have fully materialised.
She disclosed that some of the states that received huge investment commitment are Lagos with $3 billion, Ogun $1.04 billion, Niger $754.7 million, Gombe $315 million and Kano $174.6 million.
Sadiku noted that the oil and gas sector with a total investment commitment of $12.9 billion got the highest interest from investors.
She said $12.9 billion amounted to about 72 percent of the total investment commitments during the period.
This is followed by services sector with $4.5 billion representing 25.3 percent, manufacturing with $440 million or 2.percent and agriculture with $10 million.
Sadiku said investors from the United Kingdom made a commitment of $9 billion or 50.3 percent, Nigeria $4.21 billion, representing 23.6 percent while investors from the United States pledged the sum of $2.35 billion.
She added that an investment commitment of $1.2 billion from China, Switzerland $847 million while other countries had a combined figure of $262 million.
The NIPC boss said although most of the announced investments are yet to mature, the commission now has a seamless collaboration with the states to enable it to monitor closely investments inflow into the country, as a one-stop centre.
She said, "This figure gives us a sense, but I tell you that there are investments that may not be disclosed since investors are not really under obligation to.
"We are interested in seeing more Nigerians invest in the country, and we have a Domestic Direct Investment model now in the commission and we working with the National Bureau of Statistics to track investments inflow into the country.
"The current efforts of the NIPC in working more closely with the states is to increase the level of investment inflow into the country, and to ensure seamless collaboration and proper tracking."