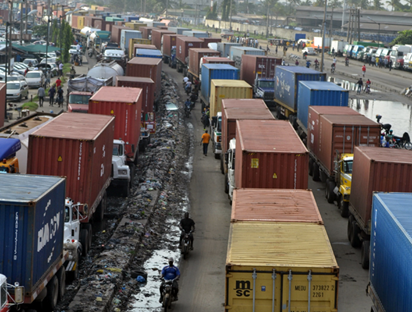 By Ace Omozuwa
As Apapa unending gridlock becomes a focus of international media organizations and source of concern to the global business community, for some indefinite patriotic sentiments, my sense of nationalistic glory seems assaulted, though, the converse should be the case. But I understand that feeling, logic and patriotic sentiments hardly co-superintend the actions or dispositions of citizens concerning burning issues. Let me be honest, may be the sentiments are not so indefinite. For I love Apapa. It is my birthplace. It is where I first experienced the thrills and thralls of amusement park. It is the locus of my utopic childhood vision. It is a key motif of the stories about the glory days of Nigeria my parents, siblings, and I often swap during family reunions.
With the above in mind I guess you will relate with how I felt when some days ago, the highly influential media conglomerate, Bloomberg, published an article in its business section by Paul Wallace and Tope Alake with the title: "Bribes, Beatings and Gridlock at Ports Choke Nigeria Economy". Though their authorial perceptive and postulates finely captured the circadian ordeals of tankers and trailer drivers along the roads and bridges to the Tin Can and Apapa seaports, and the legendary notorieties of Area Boys, I did not feel good about the piece. It is doubtful if it will spur positive reaction from the international community. In fact, it is more likely to serve as a disincentive to foreign investors that Nigeria desperately needs to enable her economy stabilize and thrive.
One thing that comes to the fore from the above-referenced article is the fact that some web of actors is profiting from the chaos in detriment to our collective wellbeing, and indeed, that of posterity. While security and traffic management agencies operating along the axis of the gridlock, which stretches from the ports to Fadeyi on Ikorodu Road, an approximated distance of 20.8 kilometers feign helplessness, some of their men extort monies from tankers and trailers drivers. In the same manner, Area Boys exploiting the lingering gridlock further traumatize world-weary trailer drivers and other road users.    They steal from commuters, vandalize vehicles, and collect illegal levies.
Though the solutions to these ordeals appear elusive, they are not beyond our spheres of competencies or leadership acumen. Recently the South-West Governors' Forum raised alarm that the never-ending gridlock on the Apapa/Oshodi Expressway constitutes a grave threat to the economy of the region, and indeed, that of the entire nation. How to improve the traffic situation along that axis was a key agendum of their quarterly meeting that held at the Government House in Osogbo, the Osun State capital. The governors implored the Federal Government to engage the Nigeria Railway Corporation (NRC) to end the daily gridlock. Furthermore, they urged the Federal Government to initiate some palliative measures, which include creation of an alternative route from Apapa to Ibafo in Ogun State and also creation of alternative routes that would connect the Tin Can Island in Apapa with Tomoro Island and Ibafo.
There is great sense in these admonitions, particularly, in view of available data. Everyday, more than five thousand tankers and trailers operate within Apapa and its environs. Evidently, the ailing infrastructure, lawlessness, and security breakdown cannot support this extent of vehicular traffic. The federal government will do well to listen to the counsel of these governors and do the needful.
The Apapa situation seems to create the impression that we are not blessed with smart leaders capable of analyzing data or formulating policies based on empirically generated data. Similarly, it suggests that the voice of business leaders do not spur government to initiate prompt remedial actions. Two putative anecdotal evidences support these claims. First, recall that sometime last year, AlikoDangote, one of Africa's most savvy business leaders, disclosed that "Nigeria was losing N140 billion weekly" because of the debacle.  Government acted as if he was crying wolf. Second, recently, the Lagos Chamber of Commerce and Industry conducted a survey in collaboration with the Nigerian Economic Summit Group (NESG) and Manufacturers Association of Nigeria (MAN). Their findings indicate that due to the lingering gridlock the nation loses "about N3.06 trillion (or $10 billion) on non-oil export and about N2.5 trillion corporate earnings across the sectors annually". The cumulative forfeiture is within the bracket of our national budget.  The implication of this is that budget deficit may become a thing of the past if the federal government would handle Apapa gridlock deftly and formulate policies to optimize revenue generation at seaports across Nigeria.
In fact, the International Monetary Fund (IMF) on different occasions has made strategic efforts to draw Nigeria's attention to the boundless economic opportunities that exist in her maritime sector. According to the IMF, the maritime sector accounts for 1.4 per cent of South Africa's GDP. It contributes 3.0 per cent to Kenya's GDP. Sadly, maritime contributes 0.05 per cent to Nigeria's GDP. This clearly suggests that there is ample room for growth in this sector and employment generation.
The business of government is to make the business environment growth friendly. This can be done by providing strategic assets and functional regulatory frameworks. If government is sufficiently mindful of its business, maritime operations in Nigeria would become a key revenue earner for government. To this end, it is imperative to enjoin the Minister of Finance, Zainab Ahmed, to use the instrument of her exalted office to ensure the Ministries, Departments and Agencies (MDAs) in our seaports are efficient, ensure the number of government agencies operating at the port is reduced to the barest minimum, and create a business enabling environment.
At present, the seaports in Lagos employ roughly 35,000 workers. If this figure is contrasted with the ports of South Africa, which employ 700,000 people, it becomes evident that with the right policies, the industrial capacity utilization will increases from 38-40 per cent (as at 2017) to the precinct of 90 per cent. Then seaports services will reduce Nigeria's high unemployment rate.
Most densely industrial cities in the world have solved the problem of gridlock basically by three ways. The first is the infrastructure solution. This is what the governors of the southwest have put forward for consideration by the federal government. The second is the public transport solution. In this regard, the government of Lagos State should endeavor to ensure that there are more functional ultra-modern public and private commercial buses on the roads. I suspect that the ever innovative and enterprising people of Lagos do not drive their private cars everywhere primarily for prestige factor, but because of the appalling state of commercial buses within the metropolis. The Lagos Bus Rapid Transit system, otherwise known as BRT was meant to address this. However, it has failed to achieve many of its grand objectives. To ensure the BRT functions like world-class public transportation schemes in developed economies, it is imperative to overhaul its management. Perhaps, private firms with credible performance record should manage the intervention.
The third is the information solution. This solution has done wonders in Kenya, where opportunity-seizing Nairobians wedded traffic and technology by developing an app called "Ma3Route." Ma3Route is a smart phone application, which basically crowd-sources traffic information. The app, which is connected to twitter, offers live feeds to subscribers, and thereby enable them avoid traffic jams. This is a cost-effective solution we must adopt. Lagos is the hub of IT specialists, so, this will not be problematic. If the technology solution is explored, the burden on military and paramilitary personnel to control traffic along that axis would lessen.
Given the fact that there are secondary causes of Apapa gridlock, which may be considered as factors underlying Customs inefficiencies at the ports, obsolete technologies used for cargo clearing, extortions, bribery, red tape, unhealthy quest of supremacy by MDAs, corruption, the fourth solution must integrate policy reform and attitudinal changes. Those who profit from chaos will do all they can to ensure government does not initiate far-reaching reforms and streamline port operations. Government and concerned stakeholders must educate such merchants of chaos on the imperatives of law and order and its ultimate profitability.
We pay for your stories! Do you have a story for Ships & Ports? Email us at [email protected] or call 0810 359 4873. You can also WhatsApp us here. We pay for videos too.

 

Copyright Ships & Ports Ltd. Permission to use quotations from this article is granted subject to appropriate credit given to www.shipsandports.com.ng as the source.