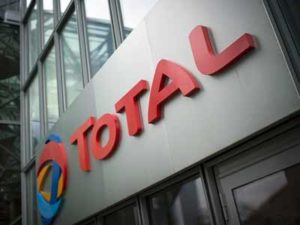 Total SA is to buy shares in three Kenyan oil blocks from A.P. Moeller-Maersk , the office of Kenya's President Uhuru Kenyatta said on Tuesday.
Britain's Tullow Oil, and its Canadian partner Africa Oil, discovered commercially viable crude in Turkana region in the far north of Kenya in 2012. A.P. Moeller-Maersk later bought equity in these blocks.
Full production is expected in early 2021 after a planned $2.1 billion pipeline to transport the crude through the proposed port of Lamu is completed.
Kenyatta's office said Total had committed to the pipeline, prompting the government to agree to a proposal for Total to buy "the issued and to-be-issued share capital of Maersk Oil Exploration International (Mogas Kenya) in respect of Blocks 10BA, 10BB and 13T."
The statement followed a meeting between Kenyatta and Momar Nguer, a member of Total's executive committee and its head of marketing and services.
It did not give any details on the size or value of the proposed transaction.
Kenya's recoverable oil reserves are estimated at 750 million barrels and considered feasible for production at a price of $55 a barrel.
Agency Report