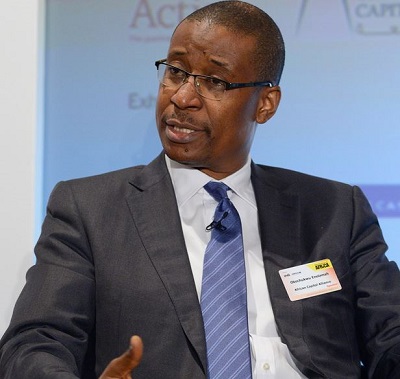 By Omotilewa Quadri 
The Minister of Industry, Trade and Investment, Okechukwu Enelamah, on Tuesday said the trade sub-sector accounted for 18 per cent of the country's Gross Domestic Product (GDP).
Enelamah said this in Abuja at the launch of the Nigeria Annual Trade Policy Report (NATPOR), the first edition put together by the Nigerian Office for Trade Negotiations (NOTN).
According to him, the report indicates that trade activities, both imports and exports, employ more than 10.8 million people.
He said NAPTOR identifies the priorities in Nigeria's trade policy, and use of trade policy as an instrument for structural transformation for diversification, modernisation and job creation, among others.
He also said that the report would be used to monitor, assess and re-negotiate Nigeria's trading relationship with her counterparts.
"NAPTOR statistics indicates that trade activities, both import and export, employ over 14 per cent of the Nigerian workforce, which is an equivalent of 10.8 million people.
"It also notes that trade accounts for 18 per cent of GDP, second only to agriculture which accounts for 29.1 per cent of the GDP.
"However, the overall value of Nigerian trade between 2014 and 2015 decreased by approximately 7.4 billion from about 23.7 billion in 2014, to 16.3 billion in 2015," Enelamah said.
He said the decrease in 2015 reflected the recession in economic activities due to the sharp decline in oil receipts while there was a slight increase in 2016.
According to him, by working closely with the Industrial Policy and Competitiveness Advisory Council, the government hopes to phase out export of primary products to which value has not been added.
"We must negotiate better than we have done so far, so that investors who seek market access in Nigeria must link their investments to industrial activities to enable creation of regional and global value chains.
"Going forward, access to Nigeria's markets must no longer be for free.
"No free market access. Investors who seek market access in Nigeria to sell their goods and services must invest and connect to our industrial and manufacturing activities," he said.
Chiedu Osakwe, Director-General and Chief Negotiator, NOTN, said as far as the year 2018 was concerned, the report indicated that attention would be accorded to deepening regional integration in ECOWAS.
Osakwe said that NOTN would finalise the formulation of the Economic Diversification Index (EDI).
He said that the EDI was being developed as a statistical measure that would enable greater rigour and precision in ascertaining by what degree the economy was being diversified away from oil receipts.
"To achieve these goals, the NOTN is investing in intensive training of trade negotiators and trade statisticians at World class levels,'' Osakwe said.  
Copyright Ships & Ports Ltd. Permission to use quotations from this article is granted subject to appropriate credit given to www.shipsandports.com.ng as the source.