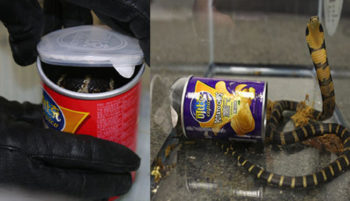 A Southern California man has been arrested on suspicion of illegally importing snakes and other reptiles in potato chips cans.
According to reports, the man identified as Rodrigo Franco, was taken into custody after United States Customs and Border Protection inspected a package from Hong Kong and discovered the three live, 2-foot-long snakes crammed into potato chip canisters.
In addition to the snakes, the parcel, sent through the United States Postal Service, contained three albino Chinese soft-shelled turtles
According to the reports, Franco also sent a package containing six protected turtles — desert box turtles, three-toed box turtles and ornate box turtles — from the United States to Hong Kong, but that shipment was intercepted by the United States Fish and Wildlife Service.
The snakes were seized by Customs and Border Protection due to the danger they posed, but the turtles were delivered to the suspect's house in Monterey Park, California, where special agents from the United States Fish and Wildlife Service raided the address.
On interrogation, Franco told officials that he had received 20 king cobras in two prior shipments, but said all the snakes died in transit.
Franco, 34, was charged with one count of illegally importing merchandise into the United States.
If convicted, he faces a statutory maximum sentence of 20 years in federal prison.  
Copyright Ships & Ports Ltd. Permission to use quotations from this article is granted subject to appropriate credit given to www.shipsandports.com.ng as the source.