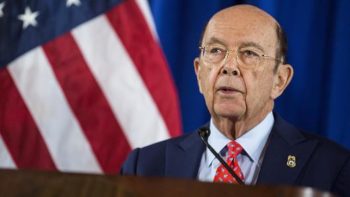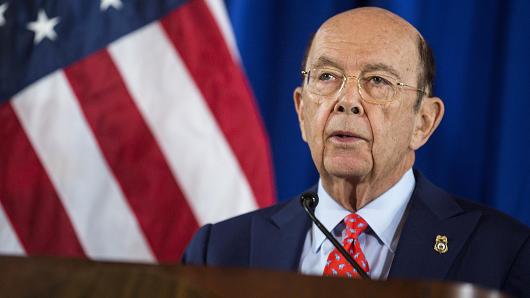 Talks between the world's two biggest economies got off to a tense start as U.S. Commerce Secretary Wilbur Ross upbraided China over the trade imbalance and both governments canceled their closing press conferences.
At opening remarks between the two sides, Ross complained about the trade gap with China in unusually blunt terms. While U.S. exports to China have grown in recent years, imports from the Asian country have expanded even faster, leading to a $309 billion trade deficit, Ross said Wednesday. He spoke at the opening of the one-day U.S.-China Comprehensive Economic Dialogue in Washington.
"If this were just the natural product of free-market forces, we could understand it, but it's not," Ross said, as Chinese Vice Premier Wang Yang looked on. "So it's time to rebalance in our trade and investment relationship in a more fair, equitable and reciprocal manner."
Moments earlier, Wang said in his remarks that cooperation between the two countries was the best way to proceed. Treasury Secretary Steven Mnuchin said he was optimistic the sides could use the talks as a "milestone in our economic and financial relationship," despite the challenges that remain.
Shortly after the three spoke, the Treasury sent an email to reporters saying the U.S. had canceled a press conference scheduled at the end of the day, when Mnuchin and Ross were expected to discuss the outcome of the negotiations. The Treasury department emailed a notice that China had canceled its own media briefing shortly after.
The Trump administration's open criticism of China marks a departure from past versions of the dialogue, typically a highly choreographed event where, publicly at least, U.S. and Chinese officials pledge to deepen the relationship between the two powers.
But this year's meeting comes amid tensions between the two nations as Trump steps up pressure on China to rein in North Korea's nuclear program. His administration is also weighing steps to cut steel imports, blaming China's overcapacity for creating a global glut. On Tuesday in their public remarks, the leaders appeared to sidestep major differences in a luncheon ahead of the Comprehensive Economic Dialogue, or CED.
The CED is the first meeting under a new format agreed to in April, when President Donald Trump met his Chinese counterpart Xi Jinping in Florida and developed a 100-day action plan. The U.S. and China created the dialogue in 2008 to cement ties between the two countries.
Under Trump and Xi, talks led to China re-opening its markets to U.S. beef and pledging to buy U.S. liquefied natural gas, while allowing greater access to its financial services sector.
"What matters most with the CED and other forms of dialogues is to get the two sides to sit together and talk, to avoid the mutual abuse triggered by lack of communication," said He Weiwen, deputy director of the Center for China and Globalization in Beijing.
Mnuchin on Tuesday said the U.S. wanted specific deliverables from the CED. He said the U.S. will use the discussions to push China on lifting foreign ownership restrictions in its financial services industry and removing hurdles for information and technology sectors.
While Trump built a positive rapport with Xi during the April meeting at his Mar-a-Lago resort in Florida, there have been signs of growing friction as the U.S. pushes China to reduce North Korea's nuclear threat.
The U.S. president in June said China hadn't done enough to control North Korea and its nuclear weapons program, though he appeared to brush off differences from that threat and about trade issues during the Group of 20 meeting earlier this month.
In a move that threatened to raise tensions, Mnuchin last month took steps to penalize a Chinese bank, a Chinese shipping company and two Chinese citizens to reduce North Korea's access to the international financial system. Mnuchin said at the time that the measures were "in no way targeting China" but instead focused on "North Korea's external enablers."
The sanctions provoked a furious response from China, with a foreign ministry spokesman saying the measures violated understandings reached during the Mar-a-Lago meetings.
Renewed tension between the U.S. and China could revive the threat of escalating trade spats. The Trump administration has decisions pending on the national security implications of importing steel and aluminum that could lead to quotas or tariffs. The Commerce Department is expected to hand over its recommendation to Trump soon.
U.S. trade penalties would likely be countered by China, causing both economies to suffer, said Gary Locke, who served as U.S. ambassador to China from 2011-2014, in an interview on Bloomberg TV on Wednesday. "The Chinese are aware that the United States can impose tariffs and duties and sanctions on China, but that will only lead to a trade war," said Locke. "In a trade war everyone loses, there's no winners."
Copyright Ships & Ports Ltd. Permission to use quotations from this article is granted subject to appropriate credit given to www.shipsandports.com.ng as the source.