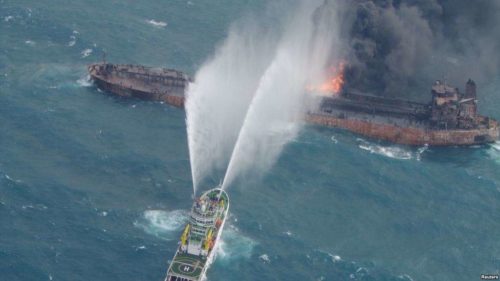 Iranian tanker Sanchi, which sank in the East China Sea on January 14, 2018, has been included in the new comprehensive list of over 700 sanctioned individuals, entities, aircraft and vessels designated by the United States.
The Sanchi, manned by 32 mariners, sank after colliding with CF Crystal on January 6, claiming the lives of its entire crew.
The crude oil tanker (IMO 9356608) was listed by the U.S. under all of its previous names (Gardenia, Seahorse and Sepid) due to its links with Iran's national tanker company.
The United States re-imposed sanctions on Iran's energy, shipbuilding, shipping, and banking sectors, on November 5, as a way of pressuring Iran to abandon its nuclear program, development of ballistic missiles and other "malign activities."
Specifically, 50 Iranian banks and their foreign and domestic subsidiaries as well as over 200 persons and vessels in Iran's shipping and energy sectors have been blacklisted.
The US Department of the Treasury said that doing business with Iran's national maritime carrier, the Islamic Republic of Iran Shipping Lines (IRISL), and oil transport giant National Iranian Tanker Company (NITC) would be sanctionable.
The sanctions relate to the companies' subsidiaries and vessels owned by NITC and IRISL, or in which the two companies have interest.
"Each year, these vessels move tens of millions of barrels' worth of Iranian oil, as well as Iranian natural gas, which constitute a major source of revenue to fund the Iranian regime's malign activities.  It is essential to close off this funding stream to Tehran," Treasury's Office of Foreign Assets Control (OFAC) said.
"The Iranian shipping industry is reviving previously employed deceptive practices in an effort to obfuscate IRISL or NITC's interests in vessels and other property.  Among the IRISL vessels identified today are four vessels that recently underwent name and partial ownership changes but that are still property in which IRISL has a blockable interest.  The global maritime industry should be on alert for Iran's use of such tactics and make every effort to thwart Iran's use of their jurisdictions to create front companies; to revoke their flags from IRISL and NITC vessels; and to deny other means that enable Iran to conceal its interest in the vessels," OFAC added.  
Copyright Ships & Ports Ltd. Permission to use quotations from this article is granted subject to appropriate credit given to www.shipsandports.com.ng as the source.