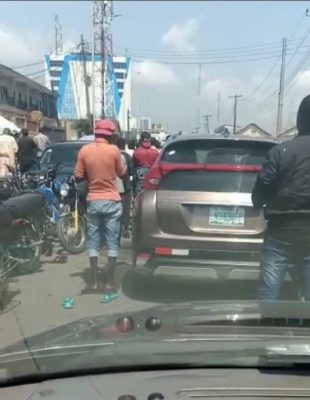 Several port users, workers, truck drivers, commuters and residents of Apapa, Lagos, expressed outrage yesterday as some Muslim faithful blocked major roads around the ports to observe their weekly Jumu'ah prayers.
Some of the roads blocked by various prayer groups include Burma Road where the headquarters of the Nigerian Maritime Administration and Safety Agency
(NIMASA) and the Apapa Local Government Area are located, Wharf Road, which is the major road leading to the Apapa port – the nation's largest and busiest seaport – and a section of Commercial Road.
"This is what they have been doing for many months now. They park their motorbikes right in the middle of the road and block everywhere. They do it every Friday and everywhere is at a standstill during such prayers," a port user who identified himself as Uche Opara, told SHIPS & PORTS.
A resident who also spoke with SHIPS & PORTS said he spent 30 minutes on the same spot in his car "waiting for them to finish" as the road was blocked. He confirmed that the new trend of saying the Friday prayers right in the middle of the road started "some months back".
"It is terrible I tell you. This is Apapa where the country's two major seaports are located. It just beats one's imagination that this could be happening. I really don't want to talk about it. It is a shame that some people will decide to block the roads just because they think they can do whatever they like. The implications for the economy are grave. Please I don't want to talk," the resident said, even as he declined to give his name.
See video of the prayer on Burma Road below: