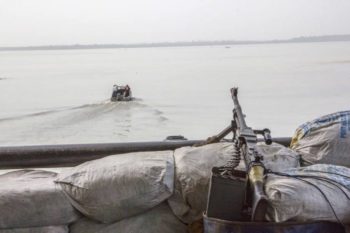 Delta State Police Public Relations Officer, DSP Aniamaka Andrew has said that the nation's waterways are used by kidnappers to run away from the long arms of the law.
In a chat with SHIPS & PORTS DAILY, Andrew said kidnappers "come on land and do whatever they want to do and then use the waterways as the easiest".
He said the kidnappers are familiar with the terrains of the waterways because they grew up in the creeks.
"They take advantage of persons who are not security conscious, soft targets and after kidnapping them, go through the waterways to hide. We are also coming up with our own strategy soon and it will be a thing of the past.
"We have had cases of kidnapping in the past. It took the effort of the Joint Tasks Force (JTF) before we were able to fish them out," he said.
Andrew said policing the waterways is not a conventional kind of policing but required some special skills.
"The fact is that in terms of manpower, not everybody is skilful. This role requires some special skills. You need not just the conventional policing, you need marine policing. You must have strong synergy between the Navy and the police. They must work together to be able to man the waterways.
"The provision of security is tied to funding. It cost money to provide the kind of equipment necessary to secure the waterways.
"It requires co-operation from all the relevant stakeholders including the government. The government needs to know that we do not fight crime with barehands. You need the right equipment to do that," he added.