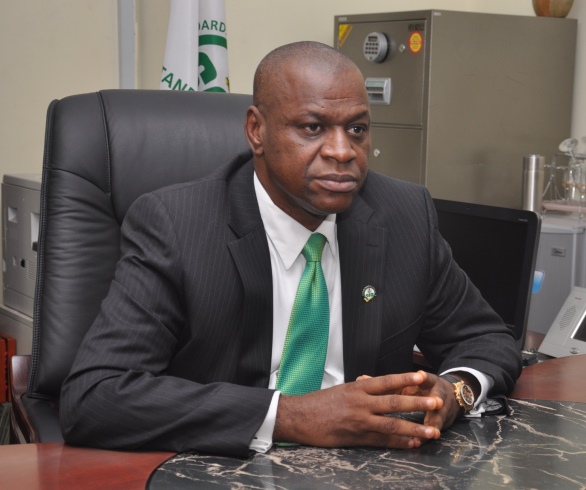 By Ace Omozuwa
Due to red tape and unhealthy duplication of functions, the Federal Government in October 2011 directed that the National Agency for Food and Drug Administration and Control (NAFDAC), the Standard Organisation of Nigeria (SON) and eight other federal agencies operating at the nation's seaports to vacate.  The strategic essence of the directive according to the former Finance Minister and Coordinating Minister of the Economy, Dr. MrsNgoziOkonjo-Iweala, was to decrease the number of government agencies at seaports, and thereby, enable quicker clearance of cargoes, reduce cost of doing business at the seaports and boost government's efforts to generate revenue.
About two years ago, the Presidential Enabling Business Environment Council (PEBEC) directed Nigeria Port Authority (NPA) to strictly adhere to the October 26, 2011, presidential directive on agencies permitted to operate in the ports.  In line with the commitment of President MuhammaduBuhari to enhance the ease of doing business in Nigeria and improve conditions under which businesses are done in seaports across the nation, the NPA had to prune down the numbers of government agencies at the seaports.  The NPA openly stated that eight federal government agencies are permitted to operate at the ports, namely: Nigerian Ports Authority (NPA); Nigerian Customs Service (NCS); Nigerian Maritime Administration and Safety Agency (NIMASA); Nigeria Police; Department of State Security (DSS); Nigerian Immigration Service (NIS), Port Health and the National Drug Law Enforcement Agency (NDLEA).
Some industry watchers are disturbed by the covert schemes of the Standard Organization of Nigeria (SON) to ensure its return to seaports across Nigeria. What is particularly disturbing is the attempt by some of those canvasing for the return of SON to the ports to blind the general public with science, may I say, with pseudo-science, and cause mass hysteria with cancer scare.   The alleged threat of imported cancer-causing school uniforms in Nigeria as a ground for the demand of SON to return to the port seems to be another case of dealing with the symptoms, instead of the cause of the ailment.
To be fair, there are those who canvas for the return of SON to the ports, because, they think it is good for the economy and guarantees standard.  According to a former Director-General, SON, Dr Joseph Odumodu, "Government in its wisdom removed SON from being at the ports. That singular action hampered the drive for reducing substandard products in Nigeria because today we are not at the ports so, we do not even know what is coming into Nigeria." Some months ago, the chairmanSenate Committee on Industry, Sam Egwu, during an oversight function to SON's offices in Lagos made a case for the return of SON to the nation's ports.  According to him, "We cannot overemphasis the issue of standardization, because it is the core for every manufacturing output. We are not happy that SON has not been allowed to operate at its maximum capacity especially with their presence being felt at the port.
"Nigeria is import dependent, with porous borders and for them not to be at the port to inspect these goods first hand is not good enough. They should be allowed to be at the port to see these products before they enter into the market.We have observed some products come into the country from countries that do not have standards all cloned with SON logo. This is certainly not good for the Nigerian economy."
Policy inconsistency is one of the key reasons why Nigeria has failed to advance to the league of developed nations.  When public policy changes like weather, long term planning is impossible. It makes the business environment hostile, slows down economic growth, deflates the enthusiasm of foreign institutional investors, and makes the science of risk management to look like inexplicable magic.  If government should reverse its policy and allow SON back to the ports, it will constitute a huge set back to the ease of doing business. It will increase the cost of doing business in Nigerian ports and re-introduce delays instigated by the multiple government agencies at ports.
Many people remember Ali Mazrui for many things.   His uncommon ability to understand modern-day intricacies, foresee the advent of new scientific theories and significant events in the global arena has made some people to refer to him as "a latter-day Nostradamus." One of his unforgettable sayings is; "Africa produces what it does not consume and consumes what it does not produce." This is so true of Nigeria. We produce cocoa, export it, thereafter,   import, and consume one of its finished products, chocolate.  We "produce" crude oil, export it, thereafter, import and consume one of its refined products, petroleum.
History would applaud this generation if we mobilize our resources to ensure Nigeria produces what she consumes and consumes what she produces. We can start by sensitizing the public on the economic imperatives of consuming made-in-Nigeria products. There is no other way to get out of the quagmire of import dependency Distinguished Senator Sam Egwu alluded to in the above stated quote, if we do not grow our local industries.
If government is truly serious about diversifying our national income stream, it should demonstrate it by promoting the development and optimum utilization of indigenous raw materials by the manufacturing sector.  A good place to start will be the textile industry, simply because, we have competitive advantage therein.  It is said that around 1911, "Kano was producing more than two million rolls of cloth per year.  The textile manufacturers were distributed all over the territory and export of local textiles to West African countries became intensified."   In colonial times, when the British Cotton Growers Association operated three massive ginneries in southern Nigeria, namely,Ibadan, Lafenwa, and Lokoja, cotton producers could aspire to emulate the lifestyle of the Lydian King Croesus.
According to the Director General of the Raw Materials Research and Development Council (RMRDC), Dr. Ibrahim HussainiDoko, "The Nigerian textile industry spread considerably, and by 1987, the industry had grown to be the third largest in Africa, attracting investment from China and India, with over 170 urban textile mills and about 600,000 skilled and unskilled labour earning their living through it.  The sector, in the 1980s, made annual turnover of $8.95 billion and generated 25per cent of the manufacturing Gross Domestic Product. It accounted for not less than 10per cent of the corporate income taxes.
"With about 1.3 million cotton farmers in the country's cotton production belt and a dependency ratio of one farmer to eight dependents, an estimated 17.2 million people derived their livelihood from the sector"
Imagine the economic miracle that would occur, if a ban is placed on the importation of school uniforms, and Aso eke.  It will make cotton to become a major cash crop in Nigeria, as it was some decades ago.  The prevalence of poverty and its deadly scourges on women and children will be mitigated significantly in states like Kano, Kaduna, Oyo, Ondo, Kwara, Katsina, Jigawa, Ogun, Kebbi, Sokoto and Zamfara where cotton production thrive most.
Tunnel vision makes us fixated on short-term solutions. The rationales behind the agitation to bring SON back to the ports are oriented to short-termism. In the long-run,if they succeed at returning it will be a recipe for debacle at the ports.
To ensure standardization of   products in Nigerian markets efforts must be made to enhance border security and effective collaboration with nations where we import products from. When they know that it is indeed a deal breaker when they fail to adhere to specified standard, they will stop dealing with Nigeria as a dumping ground of fake products.
It is unwise to compromise the ease of doing business at the ports. It is unwise to increase the cost and time of doing business at the port.  The wise thing to do now that Nigeria is poorly ranked on the ease of doing business is for all stakeholders to join forces with the NPA to ensure services are rendered efficiently, timely and satisfactorily.
Copyright Ships & Ports Ltd. Permission to use quotations from this article is granted subject to appropriate credit given to www.shipsandports.com.ng as the source.