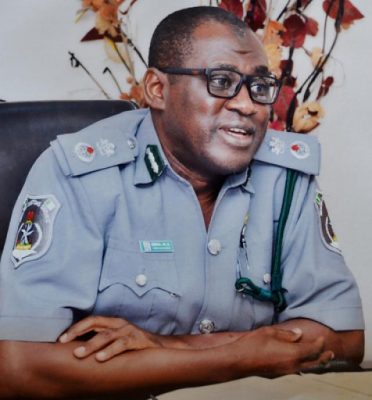 As the yuletide season approaches with the volume of imports expected to increase at the port, Controller Tin can Island Port Command of the Nigeria Customs Service, Comptroller Baba Abdulahi Musa, has warned fraudulent importers who see the season as a period to carry out their nefarious activities to desist from such illegal business as the command has put in place measures that will make them count their losses.
Comptroller Baba who gave the warning while speaking in an exclusive chat with SHIPS & PORTS in his office, said non compliance to trade rules still remain one of the major challenges faced by the command.
"We expect volume of import to go up from the ember months. So what we have done is put some measures in place to track the non compliant traders. We have done some minor reshuffling where we increase the number of officers in certain units to beef up those areas.
"We know the smugglers too will be mapping out their strategies so we have put in place checks to pre-empt such traders. We do that with a lot of risk management. We are looking at them even at the point of manifest level, declaration and on some of the declaration; we insist detailed and thorough examination must be conducted on them if they are suspicious. For example, the last seizures of tramadol, most of them were done at manifest level, that is suspecting the consignment and open it for examination.
"If a trader is compliant, we expect that by the time he goes through physical examination, the next thing is just to release but that is not the case always. We still have some who are bent on doing the wrong thing," he said.
Comptroller Baba said in anticipation of the festive season, the command has also commenced trade facilitation measures, noting that it has concluded the categorisation of importers into three with special privileges accorded to traders that have been viewed to be compliant over the years.
"We have quite a number of importers who are on fast track scheme. These ones are the first category of importers that largely comply.  The scheme allows the importers move their consignment to their factories where examination will be conducted after paying the duty.
"We also have those who as soon as they summit their declarations, we profile them and they know it's obvious they have Demand Notice (DN) and they pay. But we have the third category of importers that believe they are right even when it is obvious they have issues," he said.
The Customs boss urged importers and clearing agents in the second category to increase their level of compliance to enjoy quick clearance of their goods from the port.
"I am also urging them to summit their declaration in good time, they should be more compliant and fulfil all documentary requirement so that they enjoy facilitation of their cargoes," he said.
On the time for joint cargo examination at the port, Comptroller Baba said the command has reached a consensus with its stakeholders including clearing agents and terminal operators that examination of cargo will commence by 10: 00 am, stating that level of compliance of all parties to the arrangement has been satisfactory.
According to him, "It was agreed unanimously with the stakeholders including other government agencies that by 10:00 am, examination will start. Tin Can Island Container terminal (TICT) for example position like 270 to 300 containers for examination. Hitherto, there was no such arrangement but presently level of complaint to this arrangement has increased."
The Customs boss also decried the deplorable condition of the Tin can Island port access road, which he attributed as one of the major factor hindering the 24 hours cargo clearance as directed by the federal government policy on the Ease of Doing Business.
 "Another challenge we face is the issue of access road. If you look at the whole clearance process, the involvement of Customs is only in cargo examination. As soon as a particular consignment is examined and released, we expect it should move out of the port but you find the agents has to look for vehicles, load the goods and before evacuation, you find that you have already spend some days," he said.