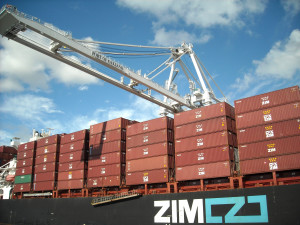 By Jite Eriabie 
Driven by a positive trend in the container shipping industry, Israel's shipping company Zim Integrated Shipping Services (ZIM) saw steady improvement in its quarterly performance.
The company delivered a net profit of USD 2.3 million in the second quarter of 2017, compared to a net loss of USD 74.1 million reported in the same quarter of 2016.
For the three months ended June 30, the company's revenues reached USD 745.7 million, up from USD 611.9 million in the second quarter of 2016, representing a 21.9% increase.
ZIM also handled 6.7% more volumes during the period as it carried 659 thousand TEUs, compared to 617 thousand TEUs handled in the previous year's quarter. The average freight rate per TEU increased by 16.3% to USD 1,007 from USD 866 in the respective quarters.
"ZIM's positive results in Q2 demonstrate an ongoing, steady improvement in the company's performance. We focus on achieving profitability through efficiency, innovation, and above all reliable and agile services to our customers," Eli Glickman, ZIM President & CEO, said.
"Our customer-centered approach is at the root of our strategy, and as an independent global niche carrier we can provide unique and flexible services to our customers. I'm confident that this approach will enable ZIM to prevail and achieve additional improvements in the coming years," Glickman added.
The shipping liner industry went through major developments and structural changes which include reshaping of the alliances and M&A activities that took place over the last quarters. In the face of this tough business environment, ZIM "continues to outperform the industry and achieve improved results."
For the first six months of 2017, ZIM's net loss stood at USD 4.1 million, compared to net loss of USD 130.4 million in the first half of 2016.
Total revenues for the first half of the year were at USD 1.4 billion, up from USD 1.24 billion reported a year earlier, while the company's carried capacity increased by 5.2% to 1,257 thousand TEUs from 1,194 thousand TEUs in the first half of 2016. 
Copyright Ships & Ports Ltd. Permission to use quotations from this article is granted subject to appropriate credit given to www.shipsandports.com.ng as the source.