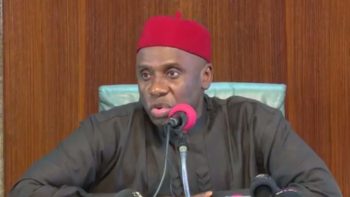 Minister of Transportation, Rotimi Amaechi, has called for total reforms of the Nigerian economy by reducing government's overwhelming involvement in the ownership and daily operations of ports and harbours as well as other critical sectors of the economy.
Amaechi, who spoke in Abuja, on the importance of outstanding transport sector reform bills being considered at the public hearing held at the instance of House Committee on Ports, Harbours and Waterways, specifically stressed the need to create enabling environment for private sector to operate in the maritime sector.
He said: "It is common knowledge that Governments all over the world have realized that they are not best suited ownership and management of businesses, as such considered it imperative to shift from purely government ownership and management of businesses to public private partnership (PPP) arrangement.
"The reforms therefore are intended to guarantee efficiency, sustainability, competitiveness and profitability."In addition, it is imperative to intimate this Committee that full government ownership and management of these agencies had inherent restrictions for third party capital funding, undue government interference, burdensome bureaucratic structures and over listed workforce, amongst others."
Represented by the Permanent Secretary of Federal Ministry of Transportation, Sabiu Zakari, the minister noted that the intent of government's reform brought about the proposed amendments of the laws of some agencies and instruments empowering operation and activities in the Nigerian maritime domain.
"Our positions on the bills that are before this Committee for consideration are to: reduce and ultimately remove budgetary pressures on the government for funding on capital, recurrent and long term projects and introduce other tiers of government and private sector investment and participation in critical infrastructure provision which is the backbone for development.
"Clarify the roles of government (government agencies), private sector and delineate the spheres of influence in order to avoid overlaps and turf battles that undermine effectiveness; introduce competition and innovation into the provision of services to ensure that consumer ultimately benefits from better products/services at a reasonable cost and secure and protect the interest of consumers, investors and the owner of assets – government; guarantee and sustain job creation; create, broaden and other enhance wealth creation by allowing more Nigerians to own, operate and provide services that only a few are providing currently and introduce competitiveness of the Nigerian economic climate on the sub-regional and global market," he stressed.
In his remarks, Speaker Yakubu Dogara urged the Committee to be guided by the recently passed National Transport Commission bill which seeks to designate the Nigerian Shippers Council as the economic regulator of Nigerian Ports and related issues in the maritime sector.
Dogara, who admitted that "audacious attempts by past Assemblies to fix this sector have not been successful, however expressed optimism that the ongoing move by the 8th Assembly will lay the foundation that will eventually "break the jinx and reorganise this sector for the benefit of the Nigerian economy."
He further observed that the two bills seeking to repeal the National Inland Waterways Authority Act, CAP. N47, Laws of the Federation of Nigeria, 2004 and re-enact the National Inland Waterways Authority Act, will awaken the consciousness of Nigerians to God's natural roads and rails provided free to 28 States and the FCT in form of inland waterways.
"The bills also aim to provide a modern day legal framework that will lead to the emergence of cutting edge tools for the development of our inland waterways for navigation in line with global best practices and enhance the capacity of NIWA to generate and manage its revenues, protect its assets, increase and promote private sector investment and involvement in the management and operation of its assets and also promote inter-modalism in the transport sector. 
We pay for your stories! Do you have a story for Ships & Ports? Email us at [email protected] or call 0810 359 4873. You can also WhatsApp us here. We pay for videos too.

 

Copyright Ships & Ports Ltd. Permission to use quotations from this article is granted subject to appropriate credit given to www.shipsandports.com.ng as the source.