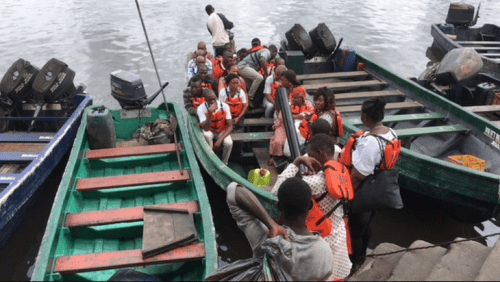 The Lagos State Waterways Authority (LASWA) has advised the commercial boat operators and all waterways users to strictly adhere to new guidelines for the operations of water transportation system in Lagos State.
LASWA General Manager, Oluwadamilola Emmanuel, said the new guidelines aim to prevent community spread of coronavirus in the state.
He said the agency had consulted and communicated with all stakeholders, including jetty terminal operators, boat operatrs and others to further enlighten their members and staff on the proactive safety measures put in place by the state government towards gradual ease of the COVID-19 lockdown.
He said no ferry would be allowed to operate except those that complied strictly with all precautionary measures such as disinfecting their boats before embarking on any trip, loading of passengers not more than 60% of boat capacity, provision of hand sanitizers and wearing of face mask by all waterways users.
He said jetty operators are to provide hand washing equipment with soap for the use of passengers while also maintaining social distancing rule within their premises.
"Our water guards would be on standby at every jetty and terminal to ensure compliance while the LASWA monitoring team and marine police will be on regular patrol of the waterways to apprehend violators.
"To this end we solicit the support of everyone in our effort to avoid further spread of coronavirus on the water ways," Emmanuel said in a statement issued weekend.