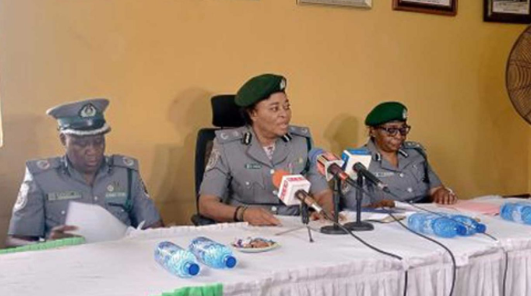 The Nigeria Customs Service (NCS) Lagos Industrial Command on Thursday gave companies not yet registered for payment of excise duty 14-days to comply or face sanctions.
Controller of the command, Comptroller Queen Ogbudu, said this during a stakeholders' meeting in Lagos.
According to her, the 14 days grace will start from May 27 after which an enforcement action will be conducted and defaulting companies will have their premises sealed and face the full wrath of the law.
"We are appealing to other factories that are not yet under the excise control because of the fact that they are not aware or they are hiding, they want to avoid paying excise duty, to come forward.
"We are advising them to come forward and do the needful because in a short while, we are going to go all out for them and by the time we get them, we will seal their premises and make them to face the wrath of the law.
"It is not fair that one will have a factory producing sizeable goods and they are not paying excise duty while others are paying," she said.
Ogbudu noted that the essence of calling for the meeting was to rob minds with stakeholders, key players in the system, to get quality feedback.
She appreciated the contributions and dedication of the stakeholders, by playing their roles in piloting the affairs of Lagos Industrial Command.
"We are equally asking for your continuous support, more dedication, patriotism, openness," she said.
She also reminded them of the new federal government's fiscal policy, which had brought some items under excise control.
"We feel we cannot just wait until you come to the command, even though the command has written to you intimating you of the new policy.
"When I resumed, I made sure a reminder was sent to all your companies before the invitation to come today, to keep you abreast of the fiscal policy that is duly signed by the Finance Minister.
"Carbonated and sweetened drinks, including fruit juice have N10 per litre; beer and stout, N40 per litre; wines, 20 per cent duty and N50 per litre; whiskey, brandy, vodka and rum, have 20 per cent duty and N50 per litre.
"This is the one that concerns us in Lagos Industrial and that is why we are bringing it to your attention," she said.
She said factories with Excise Factory Number (EFN) were required to apply for a Revised Entry of Premises.
"If you have already put in your Entry of Premises, if you still have your documents that you used at the beginning, all you need to do is apply for re-entry of premises.
"But when you cannot lay your hands on it, you have to start afresh by applying for provisional approval before you get your final approval," she said.
Some of the companies that attended the stakeholders' meeting are Nigerian Bottling Company, Niger Belt company 7up bottling company, Lacasera, Coco House West Africa and others.
Copyright Ships & Ports Ltd. Permission to use quotations from this article is granted subject to appropriate credit given to www.shipsandports.com.ng as the source.