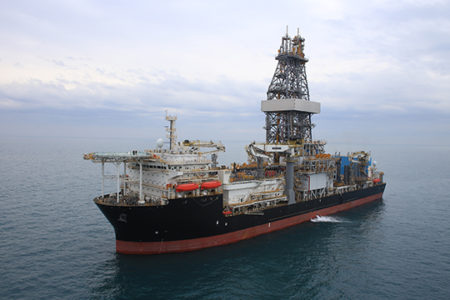 Daewoo Shipbuilding and Marine Engineering (DSME) will finally deliver two drill ships to Angola's state oil company Sonangol by early next year, the company said.
DSME will get 900 billion won ($800 million) from Sonangol once delivery is complete, adding liquidity to a company going through restructuring measures.
The shipbuilder was supposed to deliver the ships to the Angolan company in 2015 after winning the order in 2013.
However, delivery has been delayed as the oil company faced difficulty securing finances to pay for the ships after oil prices plummeted.
The deal, which originally amounted to $1.24 billion, was signed under a heavy-tail contract, meaning roughly 70 to 80 percent of the payment is only made when ships are delivered. As the delivery didn't go as planned, this became the major reason for the liquidity crisis the shipbuilder faced.
DSME kept contacting Sonangol to deliver the ships, but talks had fallen apart until recently. According to the Korean shipbuilder, negotiations started making progress this year as international oil prices bounced back above the $60 per barrel mark.
Under the agreement with the Angolan company, DSME will deliver one drill ship by the end of January and the other by the end of March. The two settled for a price of roughly $530 million per ship. The total earnings from the deal shrank from $1.24 billion to $1.06 billion. However, a spokesperson from DSME said the change reflects the difficult market and declining value of drill ships.
"There are also some positive terms for DSME included in the new deal," a spokesperson from DSME said. "When ships are delivered, shipbuilders provide roughly one year and six months of quality assurance, but DSME will be free of that responsibility as soon as the ships are delivered."
While DSME was considering establishing a special purpose corporation jointly with Sonangol and investing in the company to receive part of the unpaid receivables in dividends, that plan is not necessary anymore.
The Korean company said the losses incurred by the Sonangol project have already been reflected on its books for pre-emptive risk management, so there will be no additional losses recorded due to prices falling.
The company, on the same day, was slapped with 10.8 billion won in fines from the Fair Trade Commission for abusing its power against its contractors between 2013 and 2016. The fair trade body also decided to file a complaint against the shipbuilder with prosecutors.
The shipbuilder is accused of not issuing contract papers to contractors prior to giving work to them so it can manipulate costs later in accordance with its budget, not the amount of work the contractors actually provided.
Source: Korea Joongang Daily
Copyright Ships & Ports Ltd. Permission to use quotations from this article is granted subject to appropriate credit given to www.shipsandports.com.ng as the source.