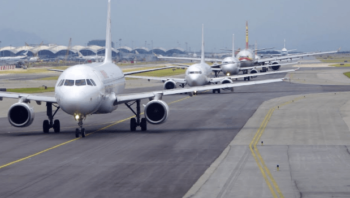 The Chief Executive Officer of Overland Airways, Capt. Edward Boyo, has canvassed the provision of low cost capital to indigenous airlines by the Federal Government to keep their operations afloat.
Boyo said such initiative would not be too much a price to pay to make domestic airlines viable as access to funds would enable the airlines acquire aircraft at lower interest rate.
The repayment of such funds he said should spread across a long period.
Speaking in Lagos, Boyo explained that some governments across the globe have taken such steps to bail the airlines from collapse.
He described the provision of low cost capital as the best reform government could carry out to resuscitate the domestic carriers as previous attempts to provide intervention funding for the carriers did not yield the desired results.
He listed some of the factors militating against the domestic airline operators in the country to include low capacity of funding institutions, which hampers aircraft acquisition and high lending rate to airlines which has become a major challenge for many operators.
Other factors, according to Boyo, are prohibitive maintenance costs which have made domestic airline operators to ferry aircraft abroad for major checks, such as C and D, high import duties and taxes on aircraft parts which adds to operators operating cost.
He listed skyrocketing price of aviation fuel which has caused operators over 40 per cent of their operating costs.
The chief executive officer added that there is no level playing ground for operators in the airline business in the country.
Boyo said: "But the quickest reform the government can make today is to provide low cost capital for the airlines. And it is nothing new; governments in other countries have done it for their airlines.
"Every government must protect the economy for the benefit of their people, not opening the economy for foreigners to come and take advantage of them.
Due to the high cost of capital in Nigeria, you have a situation where European, American and other foreign companies are coming to drop their aircraft in the Nigeria market. And it is because they have access to cheaper capital.
"The problem that Nigerian operators have is high financing of aircraft. This is a problem with Nigeria and Africa, generally.We have lower financing cost in Europe and more advanced countries of the world. An aircraft is measured by its airworthiness, not by the age."