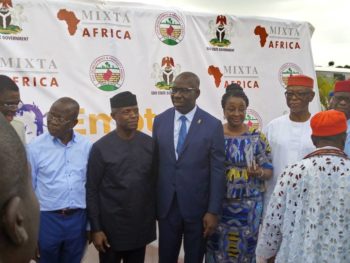 Vice President Yemi Osinbajo arrived in Benin, the Edo State capital on Thursday for a two-day official visit to the state.
Osinbajo was received at the airport by Gov Godwin Obaseki, top government officials and leaders of the All Progressives Congress (APC).
The Vice President who is expected to inaugurate some projects in the state headed to Edaiken Market at Iselin, where he commissioned a pilot phase of a solar power project under the Energising Economy Programme of the Federal Government.
He would also inaugurate the Benin Technical Innovation Hub that is expected to host over 25 ICT companies geared towards training young and old people on various ICT-based skills.
The two-day visit would also see him perform the foundation laying ceremony for the construction of 1800 housing units.
The housing unit is a joint venture project of the government of Edo and a private sector organisation.
Also in his itinerary, Osinbajo would also visit the 480 megawatts Edo-Azura power project and also attend a town-hall meeting with beneficiaries of the Social Investment Programme (SIP) of the Federal Government.
The vice president would later meet with the Micro, Small and Medium Enterprises (MSMEs) community in the state, as part of the Federal Government's efforts at deepening the sector to boost economic growth.