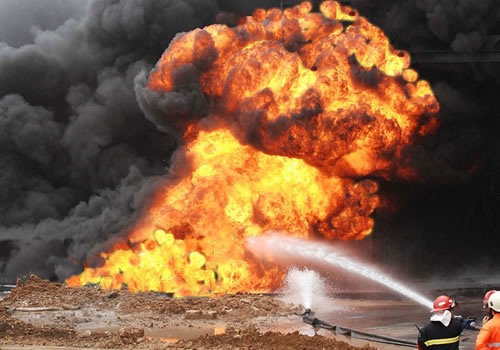 The National Emergency Agency Management Agency (NEMA) on Monday, blamed the recent pipelines fire explosion that killed 60 persons in Abia State on inappropriate routine pipeline maintenance.
NEMA Coordinator Imo/Abia Operations office, Evans Ugoh, who disclosed this said the death toll excluded those who died later in various hospitals.
According to him, the victims of the disaster were not circumspect in raising the alarm when they noticed leakage in the pipelines but rather were more interested in scooping fuel from the ruptured tubes.
Ugoh explained that the pipeline had ruptured but needed maintenance before the incident.
He said, "My team has visited the scene of the explosion and we discovered that victims of the incident took advantage of the pipelines leakage and were scooping the oil before fire caught on them.
"I blamed the victims who noticed the leakage but rather than raising alarm, they decided to steal the fuel which eventually led to their death."
He urged the Nigerian National Petroleum Corporation (NNPC) to carry out routine checks on its pipelines as well as beefing up security in oil pipelines while also suggesting a uniform disaster management strategy by oil companies in line with best practices on disaster management.