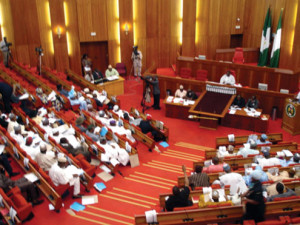 The Nigerian Senate on Wednesday alleged corruption in the marketing of products as well as in accounts operated by the Nigerian National Petroleum Corporation (NNPC), between 2006 and 2016.
Consequently, the Senate resolved to mandate its committee on petroleum (downstream) to "exhaustively" investigate the state-owned oil corporation over its accounts relating to fuel subsidy and alleged abuse of product marketing and distribution.
The Senate's resolution followed a motion by Dino Melaye (APC-Kogi Wes) who expressed worry that corruption in the NNPC persists despite the anti-corruption posture of the Muhammadu Buhari-administration.
"The independent marketers account for 49 per cent of the imported petroleum products while NNPC accounts for 51 per cent of imported products, but this does not justify the huge amount it has been paid as subsidy in the last 10years," said Melaye.
He added that excess products were sold off illegally and in opaque manner to private tank owners.
"This is usually designed to rip off the public and enrich few persons stupendously at the expense of the masses," he said.
"Since this administration clamped down on subsidy, NNPC has been solely responsible for retail with companies paying 20-25 naira for the sale of this product which amounts to over N2 billion naira monthly.
"These monies are not accounted for and might be the reason why we now see dollars buried in caskets and in uncompleted buildings in remote villages in some parts of the country."
After favourable contributions from Akpan Bassey (PDP-Akwa Ibom) who said he is aware of the claims made by  Melaye; and George Sekibo (PDP-Rivers) who urged "wholehearted" support for the current administration's anti-graft campaign, the motion was unanimously supported by the Senators.
In his remarks,  Saraki said the committee chaired by Kabiru Marafa (APC-Zamfara) should thoroughly conduct the investigation and come up with a report "as soon as possible".