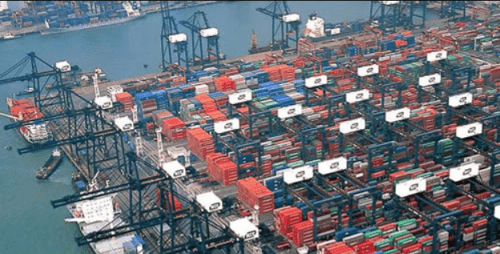 The management of Five Star Logistics terminal at the Tin Can Island Port Complex has raised alarm over the collapse of the cable ditch along the quay apron of berths 9 and 10 in the terminal.
Five Star Logistics terminal, operators of the roll-on/roll-off terminal at the port operates both berths, which cover a total length of 437.03metres. 
Speaking while fielding questions from journalists during a tour of the facility in Lagos last week, General Manager of the terminal, Wolfgang Schneider, who accused the Nigerian Ports Authority (NPA) of abandoning the collapsed cable ditch, said the management of the terminal had on different occasions called the attention of NPA to the issue but the authority it failed to take action.
According to him, it is the responsibility of NPA to carry out maintenance and repair works of the tower light area to the quay apron in line with the lease agreement. 
He said the collapsed portion of the quay apron is taking up commercial space at the terminal, calling for NPA's urgent intervention. 
He said, "We are losing a lot of space which could stack up to 100 containers as a result of this collapsed portion and it is pathetic. Any heavy object cannot go along the area because it is very dangerous. The quay wall has to be repaired first before we can fill up the failed portion to make sure that we are not sinking in. 
"From the tower light to the quay apron, it is purely NPA's responsibility to maintain. We have been talking about this with NPA for years but nothing has been done."
Efforts to get the response of the spokesperson of NPA, Adams Jatto proved abortive as calls put through to him as at the time of filing this story were not answered.