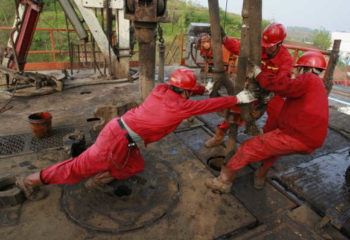 West African crude differentials were steady to firmer on Monday, supported by recent refining margin strength and demand from Indian tenders.
The market is awaiting new loading programmes due in the next few days, so spot trade is limited.
NIGERIA
* Qua Iboe was offered at dated Brent plus $1.70 for cargoes loading in late September, a trader said. That is up 10 cents from an offer reported on Aug. 9. However, earlier-loading cargoes are being offered at below dated plus $1.60, the trader added.
* Shell's Nigerian venture lifted a force majeure on exports of Bonny Light crude. Exports of the grade have been continuing nonetheless, at a lower-than-normal rate.
ANGOLA
* Most of September's cargoes have sold out and traders were awaiting the October loading plan, which is due this week.
* A few September-loading cargoes were left including Dalia with Mercuria and possibly a Girassol. The latter was last heard offered at dated Brent plus $1.00, a strong offer for the grade.
TENDERS
* Indian Oil Corp is running a tender closing on Aug. 17 to take cargoes of West African crude loading in late October, a trader said.