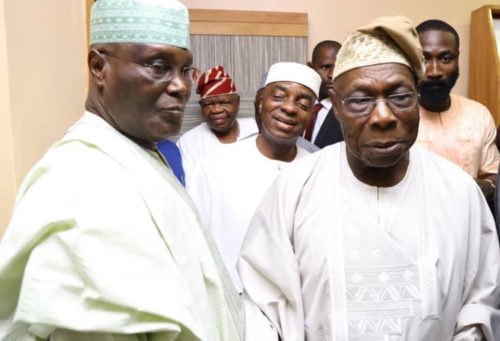 By Ace Omozuwa
The Samuel-like character of Chief Olusegun Mathew OkikiolaAremuObasanjo, GCFR, came alive recently when AtikuAbubakar, some leaders of the Peoples Democratic Party (PDP) and some respected clerics, namely, Bishop of Sokoto Diocese, Mathew Kukah, Bishop David Oyedepo of the Living Faith Church, and Kaduna-based Islamic cleric, Ahmad Gumi, visited him at his Abeokuta home.
Obasanjo spoke with the definitive authority and certitude of Prophet Samuel during the said visit: "As you know, along the road to where you are today, many leaders and ordinary people cooperated and overtly and covertly worked hard. On your behalf, I thank them all. May their coast continue to be expanded. And when you become Nigerian President which, insha-Allah, you will be, remember what we did together in government – we ran an administration by Nigerians for all Nigerians where merit and performance count more than blood relationship, friendship or kith and kin. Although some time and ground have been lost, you should endeavour to start from where we stopped and recover some lost ground, if not time."
Notice that Obasanjo did not say "IF", which appears more apt.  But, he said; "WHEN." For the purposes of avoidance of doubt and for stress, let me quote him again: "When you become Nigerian President which, insha-Allah, you will be." It may be wrong to think Obasanjo leaped from the cautious realm of probability to the ambit of cast-iron certainty, because of overinflated ego, naïve faith, or faulty political permutation. My guess is he did because in critical national moment, he is fond of arrogating prophetic powers, act and speak like Prophet Samuel. Samuel was not an insignificant prophet in Israel, his "words did not fall to the ground". He anointed two types of kings, typified by Saul and David. Onewas a plunderer, the other was a builder. Obasanjo treats his anointed godsons or candidates in the twilight of their administrations as if they are modern incarnate of King Saul. His open letter to Buhari at the beginning of the year did not conceal this sentiment. Let's not even talk about his leaked letters to former President Jonathan.
It is trite knowledge that Obasanjo is an enigma. What appears not so trite is that his enigmatic propensities are laced with magical prowess. The former President seems to be very conscious of this. Indeed, his consciousness of his somewhat otherworldly ability and his passion to pontificate seem to be one of the reasons for his enduring political relevance. "Miracles" happened after his open endorsement and exultation of the leadership qualities of Atiku.  Atiku, who was like Lazarus in a political sense; dead, buried, and stinking in the grave, came alive and is now the toast of the media. The tides of negative sentiments against Atiku are receding quickly.
Obasanjo, the ingenious military and political tactician, does not back a dark horse. His capacity to feel the pulse of the people often influences his choice more than his seem prophetic ability. This may help to explain why since the return to democratic rule in 1999 nobody has become the President of Nigeria without his public endorsement and active support.It is possible he rejected his political godson former President Goodluck Jonathan, and supported President Muhammad Buhari during the 2015 election because he knew that Jonathan had unwisely ruined his political capital and that Buhari appeared as a lone starlight in our dark political horizon. Let us pause and ponder over this question: If Atiku's emergence as the presidential flag bearer of the Peoples Democratic Party (PDP) in Port Harcourt did not trigger a groundswell optimism or what the Convener of Save Nigeria Group (SNG), Pastor TundeBakare aptly described as "eagle versus eagle", would Obasanjo dare to change his mind about Atiku's suitability for the highest office in the land? Godfathers often exude tendencies that border on political opportunism. Obasanjo has an amazing capability of reinventing himself, change his mind, clean his mess, and bury his misdeeds in the graveyard of history. Very few leaders in history and in contemporary times can magically divorce themselves from the uninspiring part of their past, like Obasanjo. Let me cite two examples to underscore this point. Just before then, can you see how all the negative things he said and wrote about Atiku are now inconsequential? First example, apart from the family of FelaAnikulapo-Kuti, most people do not remember that Obsanjo knows how to use the instrument of political repression. Under Obsanjo's watch, the compound of the musician and political activist was invaded and burnt. This was due to a squabble between a member of Fela's community and military personnel. The military savagely attacked Fela, his family, allegedly raped ladies. More tragically, Fela's mother, a sophisticated political activist, FunmilayoRansomeKuti, was thrown out through a window, and she died. Femi Kutirecently spoke about why his father disliked Obasanjo. According to Femi: "OlusegunObasanjo was a bad leader. He did not do well for Nigeria. He ruled this country three times but has nothing to show for it. They called the soldiers that burnt Kalakuta Republic and killed my grandmother – unknown soldiers. The Federal Government is yet to apologise for their action against the Kuti family." What is evergreen in public consciousness is the fact that Obasanjo was a victim of political repression during the dictatorship of SaniAbacha, not that he once abused power. In a seeming attempt to ensure his political ordeals stay evergreen in public consciousness, he recently said: "My saddest day was when I sat in front of a military panel set up by late former Head of State, SaniAbacha to try me over a phantom coup, and sentenced to death and later commuted to 30 years imprisonment."
The second example is his infamous role in the third term saga. It is now contestable if indeed he was the prime architect of the third term. Rather, his toga and well-cultivated aura as an avatar of democratic ideals are flourishing.
Obasanjo's endorsement of Atiku has added fuel to the flames of populism and appears to be eclipsing the main issues. Sadly, this is dangerous, particularly, in view of the fact that campaigns in our clime are hardly issue-based. Hence, we should all endeavor to set the agenda for politicians, and remind ourselves of the type of leaders Nigeria need at this critical time of economic crunch, divisive politics, and national insecurity.
First, we must remind ourselves that Nigeria cannot become great if ethical literacy is not a hallmark of our leaders. Ethically naïve leaders cannot extirpate corruption from the tapestry of our political culture, public service, and business environment in a way that respects the rule of law, and separation of power. Inevitably, the fight against corruption would be seen as witch-hunting, selective, class biased and mercurial when leaders are not fine embodiments of the ethics of transformational leadership and democratic ethos. We need leaders that will fight corruption inside and outside their political camp without fear or favor.
Second, we must remind ourselves that Nigeria cannot become great if we elect leaders that do not have the capacity to address the deficit of knowledge that is threatening to sabotage our future. Recently, it was disclosed that the number of out-of-school children in the country is now 13.2 million. According to an official of the United Nations Children Fund (UNICEF), 69 per cent of these children are located in the northern part of the country. Similarly, last month, a new report by the United Nations Development Programme (UNDP) showed that Nigeria's Human Development Index is abysmally low. Out of the 189 countries sampled, Nigeria ranks 157. The report measures national achievements in Human Development Index in health, education and income/standard of living.
The point of the above data is that 2019 will not count for much if we do not elect leaders that can significantly increase budgetary allocation to education, health and expand the opportunity for all Nigerians to earn well and live well in a secured environment. Indeed, Atiku couldbe a David that may start the process of national re-engineering through restructuring.
Copyright Ships & Ports Ltd. Permission to use quotations from this article is granted subject to appropriate credit given to www.shipsandports.com.ng as the source.