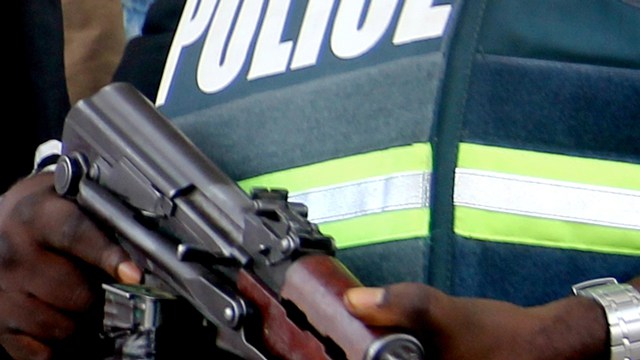 The Ekiti State Police Command has arrested four men for impersonation, having allegedly paraded themselves as naval officers in the public.
The arrest according to the Police Commissioner, Ekiti State, Babatunde Mobayo, was effected on March 1, 2021, at about 14:39pm in Igede Ekiti, Irepodun Ifelodun Local Government Area.
Mobayo, who said this at a press conference held at the police headquarters, in Ado Ekiti, yesterday, said the suspected fake naval officers were arrested while parading themselves in a manner likely to cause breach of peace in the town.
The suspects were: Ogundayomi Ajayi, Arojojoye Adewumi, Adebayo Olusola and Lamide Osheiza, who were all from Ijebu-Jesa, Osun State.
Mobayo said, "They were found wearing Nigerian Navy uniform and claimed to be members of the Nigerian Merchant Navy Caster Defence Force. It was discovered that the said organisation was among the proscribed Security Outfits by the Official Gazette of the Federal Republic of Nigeria, No 58,Vol.100 of 2013.
"Investigation revealed that the suspects conspired and impersonated to be officials of a legally constituted organisation with the motive of extorting innocent members of the public.
The Police Commissioner also confirmed the arrest of one Sanusi Ismaila for allegedly being in possession of stolen items.
"On February 12, 2021, at about 10:45pm, a reliable information received revealed that one Sanusi Ismaila, a resident of Iworoko-Ekiti, was found to be in possession of household properties reasonably suspected to be stolen goods".
Mobayo said items recovered from the suspect were: 2,000 pieces of clothes, 300 pieces of window blinds, 400 Wrist Watches, 150 Calculators, 100 Power Banks, 200 pairs of shoes, 30 pieces of game pads, 100 phones, 100 female bags, and 200 extension
sockets.
Others, according to Mobayo, include 150 television remote controls, 100 phone chargers, 300 torch lights, 300 female brassieres, a big sack containing 20 pots, a basket containing female make up cosmetics and 30 perfume bottles, were recovered.
"It was discovered that all the items mentioned belong to over 18 students of Ekiti State University, Ado-Ekiti. Investigation revealed that the suspect has no reasonable means of livelihood rather than engaging in criminality".
Mobayo said the suspects will be charged to court as soon as investigations are concluded.
"The command wishes to appreciate the members of the public, especially the good spirited members of the public, whose useful and timely information supplied have led to these wonderful achievements.
"We also thank the Ekiti State government, under the leadership of the Governor Kayode Fayemi ,whose constant trust and support have propelled the Police and other law enforcement agencies to effectively discharge their statutory duties".
The CP appreciated the military, Department of State Services (DSS) and other security agencies, including the Amotekun Corps, Oodua People's Congress (OPC), vigilantes, local hunters as well as the traditional rulers for their supports and cooperation.